ID: 72580
Address: Lumiere Evergreen, Vinhomes Smart City, Nam Tu Liem, Hanoi
add to favorites
Lumiere Evergreen is a high-end apartment project developed by Masterise Homes, situated within Vinhomes Smart City urban area, following the success of the Masteri West Heights project. Located at the heart of Vinhomes Smart City, Lumiere EverGreen is positioned as the most premium product in Masterise Homes' portfolio. Therefore, the utility ecosystem of Lumiere EverGreen is expected to surpass even that of Masteri West Heights. It will be the top choice for customers seeking a modern and prestigious lifestyle.
 Location: Vinhomes Smart City urban town, Nam Tu Liem district, Hanoi
 Product: luxury condo apartments for sale (NFA 50 m2 – 370 m2)
 38 floors and 2 basements | 1 bedroom units to 4 bedroom units, Penthouses
 Operated by a leading service management unit in Vietnam, with service standards meeting international standards and supported by one of the most advanced technology management systems today.
 Comprehensive facility system inside and outside of the compound
 The project converges a series of  luxury furniture brands
 Steps away from Central Park with huge lake, schools, hospital, parking house
 15 driving minutes to the city center
 Nestles in the residential areas designed for the upper class
 Favorite area for tenants with good budget
LUMIERE EVERGREEN – PREMIUM REAL ESTATE OF MASTERIES HOMES
Drawing inspiration from the French word 'lumière,' meaning light, Masteri Lumiere Evergreen cleverly conveys the core spirit of the project, portraying the home as the key to life and the sustenance of life, akin to light. The theme of the 'City of Light' is embellished based on various elements to highlight the design philosophy applied in the project. The apartment buildings are purposefully arranged to break the monotony of the project's facade. The use of glass panels and architectural elements creates visually interesting effects between light and darkness not only during the day but also helps guide residents home as night falls.
Masteri Lumiere Evergreen is situated in a prime location, just a few steps away from the Central Park – the heart of Vinhomes Smart City, where you can relax and enjoy the pristine ecological space. The residential area is also close to the central 52m-wide road and between the two overpasses, No. 4 and No. 5, making it easy to connect to Le Trong Tan Street and 72 Street, providing convenience for commuting within and outside the urban area.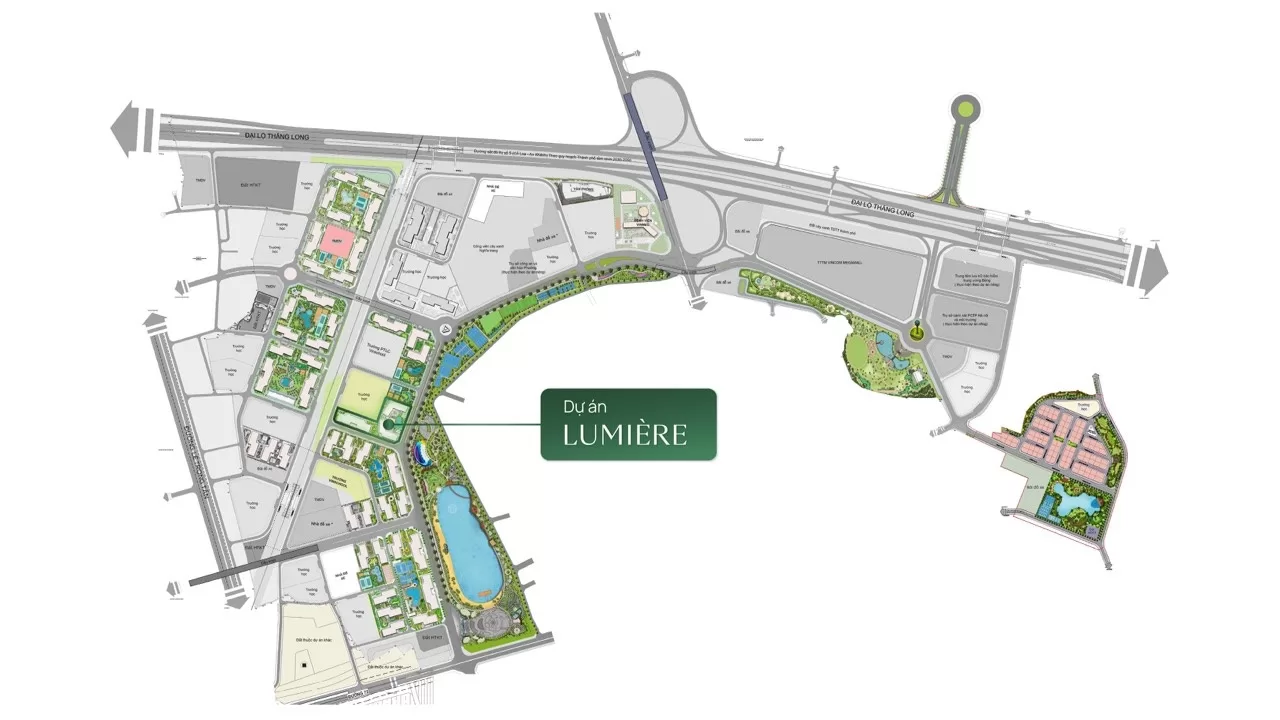 The utilities of Lumiere EverGreen condo are the perfect combination of internal facilities designed to international standards by Masteries Home, along with the premium ecosystem of utilities from the Vinhomes Smart City intelligent urban area, invested by Vingroup.
Lobby / Lounge: The lobby area of Lumiere Evergreen Smart City is equipped to welcome guests with a spacious and luxurious environment. It not only provides the apartment complex with a living space reminiscent of 5-star hotels, but the reception area also serves as an optimal solution for controlling access to the apartments, ensuring absolute safety for residents.
Swimming pool: While other residential areas may only have a shared outdoor swimming pool, Lumiere Evergreen sets itself apart by providing each apartment building with a private pool, adding a distinctive charm and a unique feature exclusive to Lumiere Evergreen. This is a special gift from the developer to future residents, aiming to offer a 5-star living experience.
Gym: Equipped with state-of-the-art fitness facilities, catering to residents' needs for exercise and comprehensive physical training.
Outdoor yoga area: The outdoor meditation and yoga area is a harmonious blend of greenery, natural light, and water elements, providing residents with a serene space that balances tranquility and activity. Lumiere Evergreen residents can fully enjoy a peaceful environment, immersing themselves in nature while maintaining the tranquility of the most sophisticated modern apartments.
Playground: Children at Lumiere Evergreen have dedicated areas for play, featuring a variety of games that contribute to a rich and diverse childhood experience. Away from smartphones and the confined spaces of four walls, these recreational areas provide a healthy environment for children to develop both physically and intellectually.
Tropical Garden: Residents can stroll and engage in conversations amidst the fresh, cool air in the vibrant and colorful space of the tropical garden.
PURCHASE APARTMENTS IN LUMIERE EVERGREEN
Lumiere Evergreen apartment for sale in Vinhomes Smart City is positioned as a luxury apartment segment, featuring smart and environmentally friendly interior fixtures from leading global brands. With a range of apartment options from 1 to 3 bedrooms, including high-end products like Penthouse and Duplex, it provides customers with diverse choices to suit their preferences and financial considerations.
Developer : Masteries Homes
No of Towers: 3
Total Units:
Property Type: Apartment
Rental Fee: 500$ - 1500$
Room Types: 1 - 4 bedrooms
Area range: 50 m2 - 370 m2
Property Id : 72580
Property Size: 23 672 m2
Completion Year: 2026
Floor: 38
Ownership: Pink Book
24/7 Security
Reception
Gym & Fitness Center
Swimming Pool
Mall
Mart
Park
Near School
Near Metro Line
Cinema
My details
Sales Department
Contact Me
Click here to schedule a viewing
Similar Listings