ID: 20223
add to favorites
230,000 $
Unit B 2818: Looking for a lake view apartment for sale in Hanoi? Don't miss this 2 bedro
[more]
Unit B 2818: Looking for a lake view apartment for sale in Hanoi? Don't miss this 2 bedroom apartment with la
[more]
109,000 $
Unti SA5. 3729: SA5 Tower in The Miami block of Vinhomes Smart City is a highly sought-after ad
[more]
Unti SA5. 3729: SA5 Tower in The Miami block of Vinhomes Smart City is a highly sought-after address for investors
[more]
60,000 $
Unit GS1. 1409: An affordable studio apartment for sale in Vinhomes Smart City for bachelor or
[more]
Unit GS1. 1409: An affordable studio apartment for sale in Vinhomes Smart City for bachelor or young couple. The ap
[more]
206,000 $
Unit C. 0905: Are you looking for a 3 bedroom apartment in Masteri West Heights? This apartment
[more]
Unit C. 0905: Are you looking for a 3 bedroom apartment in Masteri West Heights? This apartment for sale is a reall
[more]
156,000 $
Unit C. 1808A: Looking for a 2 bedroom apartment for sale in Masteri West Heights? This unit is
[more]
Unit C. 1808A: Looking for a 2 bedroom apartment for sale in Masteri West Heights? This unit is very worth for your
[more]
102,000 $
Unit C. 0409: A nice option for 1 bedroom apartment for sale in Masteri West Heights. Located o
[more]
Unit C. 0409: A nice option for 1 bedroom apartment for sale in Masteri West Heights. Located on 4th floor, the apa
[more]
Location: Tay Mo & Dai Mo ward, Nam Tu Liem district, Hanoi
Developer: VINHOMES VINGROUP
Construction contractor: Hoa Binh Corporation.
Scale
Apartment Buildings: 58 Buildings, from 29 to 35 floors
Townhouse
Villas
School system from Preschool to High School
Vinmec General Hospital
Shopping Mall
Offices
Total area: 280 ha
Construction density: 14, 7%
Type: 1 bedroom, 2 bedroom & 3 bedroom apartments, duplex apartments and shophouses.
Expected handover: 2020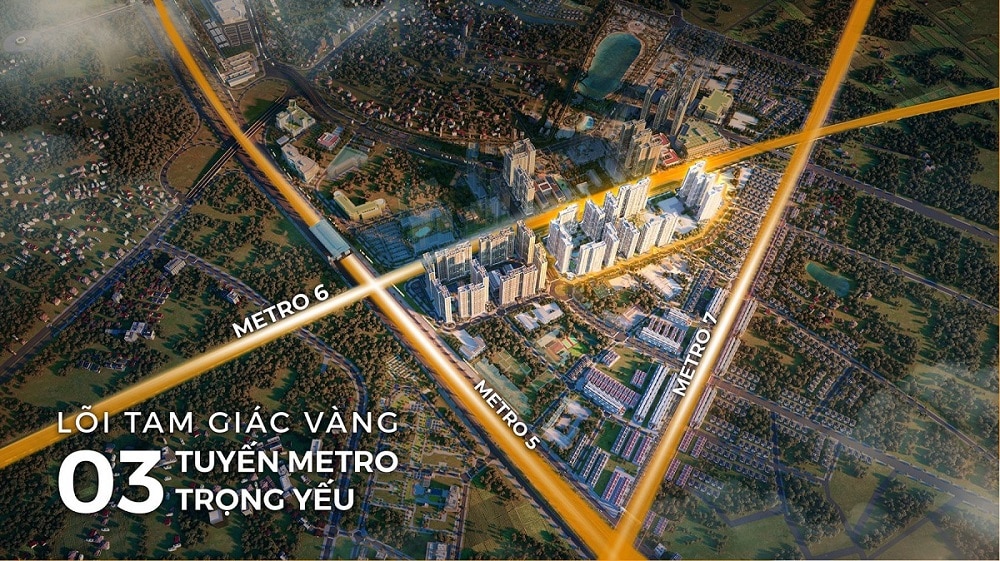 Vinhomes Smart City is the connection point of 3 metro lines: Line 5, Line 6 and Line 7 in Hanoi.
Reasonable Price, Center of West Side, Reliable Developer, Comprehensive Urban Town
Vinhomes Smart City – View from Central Park
Vinhomes Smart City – Aerial View
Vinhomes Smart City Hanoi is a large-scale project situated in the peaceful and emerging area of Tay Mo and Dai Mo in Nam Tu Liem district, approximately 4 km away from the city center. While the area may not be well-known to investors yet, the credibility and track record of Vinhomes assures potential residents of a high-quality living experience. The project boasts an advanced transportation system equipped with modern and intelligent technology, providing easy access to the city center and neighboring provinces. Residents can enjoy safe and efficient travel to any destination within and beyond the city limits.
500m to Bao Son Paradise
1.5 km to Vinhomes Thang Long urban area
3 km to Keangnam
3.5 km to My Dinh stadium
4 km to the National Convention Center
4.2 km 5* Hotel JW Marriott
4.5 km 5* Hotel Grand Plaza
AMENITIES
Developer : Vinhomes
No of Towers: 58
Total Units: 38000
Property Type: Apartment
Rental Fee: 500$ - 1000$
Room Types: 1- 3 bedrooms
Area range: 28m2 - 80m2
Property Id : 20223
Property Size: 2 800 000 m2
Completion Year: 2021
Floor: 38
Ownership: Pink Book
24/7 Security
Reception
Gym & Fitness Center
Swimming Pool
Mall
Mart
Golf Court
Park
Near School
Near Metro Line
Cinema
My details
Sales Department
Contact Me
Click here to schedule a viewing