Toast is a form of bread coming from Western countries. Toasting is a common method of making stale bread more palatable. Thanks to the cafe's creation, toast has become a very "addictive" dish in Asian countries. In Japanese manga/anime, it has become a cliché that late protagonists run around with toast in their mouths in the morning. Toast & Sandwich have become familiar street foods in Korea. Especially, Korean Toast tastes really different. There are two Korean men who come to Vietnam with the desire to make this dish become popular in Hanoi. Let's explore Camto Café & Toast – The best place in Hanoi to try Korean Toast.
Korean Toast in Hanoi

Sandwiches or toasts are nothing strange, appearing in many countries with many appealing and delicious versions. However, Korean Toast really taste very different. "Korean street toast" (토스트) is a type of sandwich with two layers of bread baked in a pan with butter. This is a popular breakfast dish with Koreans and you can see a lot of toast & sandwich shops on the street. And in Hanoi, it's becoming more and more popular to the youth.
Koreans love sweet taste, so maybe Toast is also seasoned with a little brown sugar. Let's imagine having a hot Korean Toast. The sugar melted and blended into the cheese and eggs. The ketchup creates a hint of salty, a little sweetness and a hint of sourness. Wow, this extremely stimulates our taste.
Eggs and cabbage are indispensable ingredients for this dish. Eggs are smashed into a square mold to cook with cabbage, then poured with sauces. This is a core part that every toast has.Depending on the type that customers choose, the chef will make more of the filling such as beef, ham, chicken, seafood, cheese, etc. Two sandwich slices are also a must-have for a toast. The chef will spread the butter and then bake it crispy. Then, each filling is neatly arranged inside and surrounded by 2 slices of bread on the outside.
Camto in Korea
Camto Cafe & Toast in Hanoi is a franchise of famous fast-food chain stores in Korea (캄토 ). You can find them in luxurious commercial centers or in front of schools. People say that Toast is a convenient, yummy and nutritious food. The price is also very affordable, even to students. We can see many Koreans enjoying hot coffee & toast on streets or in parks.
Camto Fast-food chain in Korea
Camto Toast & Cafe in Hanoi
Now, there is only 1 franchise store of Camto in Vietnam. You can find Camto Coffee & Cafe at Villa No. B16, Embassy Garden, Bac Tu Liem district, Hanoi. The cafe is well situated on the ground floor of the new villa. Modish exterior with monochrome style: black door on white paint. The inside space is not too large, just around 70sqm. However, the harmonious decoration makes the cafe look cozy & comfy. There are window seats which could be an ideal place for taking selfie. Not mention to a backyard overlooking serene villa block.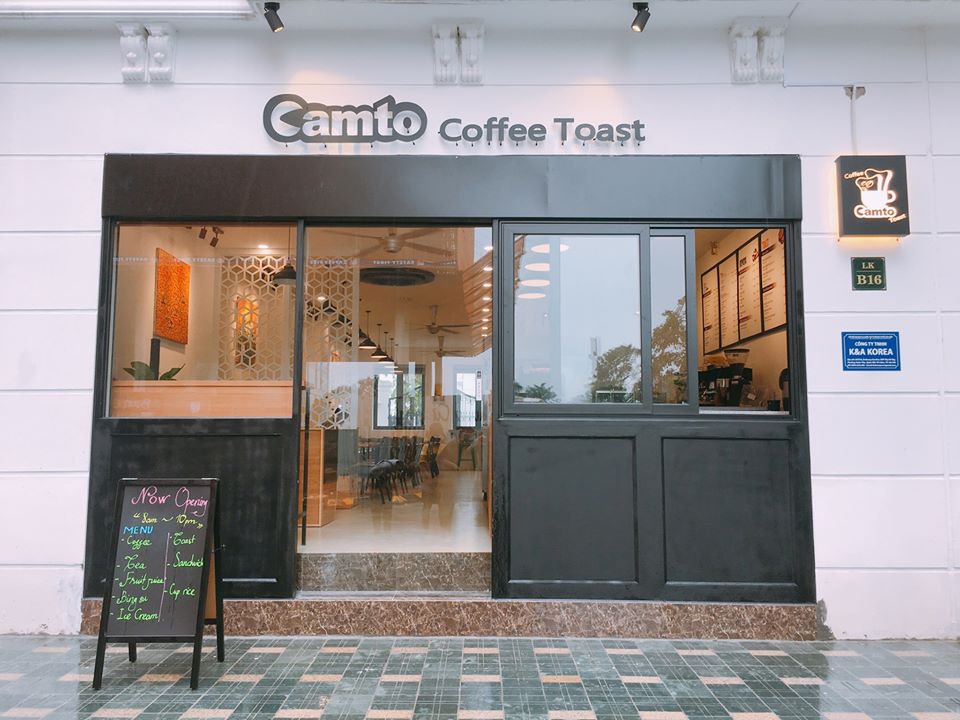 Camto Toast & Cafe in Hanoi
The Journey of Two Korean Businessmen
Mr. Kim & Mr. An are 2 friends as well as experienced businessmen. In April 2019, these 2 men decided to bring Korean Toast to Hanoi by opening Camto Coffee Shop. For 1 year, they have met a lot of difficulties causing by Covid-19 pandemic. Mr. Kim even can't come back Hanoi until the airlines are resumed. However, Mr. An has been trying his best to realize his dream, to make Camto Café & Toast great in Vietnam. [to be continued]