ID: 49187
Address: No. 43, Ngo Gia Tu street, Bac Giang City
Add to favorites
Discover Luxurious Apartments for Sale in Vinhomes Bac Giang
Are you searching for the perfect apartment in Bac Giang? Look no further than Vinhomes Sky Park, also known as Vinhomes Bac Giang. With its prime location at No. 43, Ngo Gia Tu Street, in the heart of Bac Giang city, this prestigious condominium project offers a remarkable living experience. Let us introduce you to the exceptional features and benefits of owning an apartment in Vinhomes Bac Giang.
Vinhomes Sky Park comprises 565 exquisite apartments spread across 25 floors, designed to cater to the diverse needs and preferences of residents. The condominium boasts modern amenities and a high-quality handover standard, ensuring a luxurious and comfortable lifestyle. With 8 elevators and 2 basements for parking, convenience and accessibility are at the forefront.
The first to fourth floors of Vinhomes Bac Giang are dedicated to a stylish mall, providing residents with an array of shopping and dining options. From the fifth to the twenty-first floors, you'll find a range of spacious and well-appointed residential apartments. Choose from various unit types tailored to your desires.
Studio apartments: Offering a cozy living space ranging from 30m2 to 31m2, with prices starting from 1.2 Billion VND to 1.4 Billion VND.
One-bedroom apartments: Providing ample space around 47m2, with prices ranging from 1.8 Billion VND to 2.2 Billion VND.
Two-bedroom apartments: Offering spacious accommodations ranging from 67.8m2 to 74.6m2, with prices starting from 2.7 Billion VND to 3.9 Billion VND.
Three-bedroom apartments: Providing generous living areas ranging from 94.3m2 to 94.8m2, with prices ranging from 4.1 Billion VND to 4.6 Billion VND.
Floor Plan (Layout) of Apartments for sale in Vinhomes Sky Park Bac Giang
Strategic Location of Vinhomes Bac Giang
The strategic location of Vinhomes Bac Giang ensures easy access to parks, international schools, hospitals, and administrative centers, making it an ideal residence for foreign experts and consultants working in the nearby industrial parks of Bac Giang and Bac Ninh. Furthermore, its proximity to these industrial parks, which are just 10 km to 20 km away, enhances the value of investing in an apartment in this thriving development.
Vinhomes Bac Giang offers an unparalleled range of amenities and facilities to enhance your lifestyle. Residents can enjoy a high-end mall, a well-equipped gym, a refreshing swimming pool, a serene sky garden, as well as shops, restaurants, cafes, and even a Vinfast center. Everything you need for a vibrant and convenient life is right at your doorstep.
When it comes to quality and reliability, Vinhomes has earned its reputation as the leading real estate developer in Vietnam. Their dedication to excellence is evident in every project they undertake, and their properties are highly sought after. The professionalism and commitment of Vinhomes ensure that the value of your investment will continue to rise.
Vinhomes Bac Giang offers apartments with stunning lake and park views, making them highly desirable for both local and foreign customers. Don't miss out on the opportunity to own a luxurious apartment in this prestigious development. Contact us now to explore the available apartments for sale in Bac Giang and make Vinhomes Bac Giang your dream home.
From Vinhomes Bac Giang to Other city centers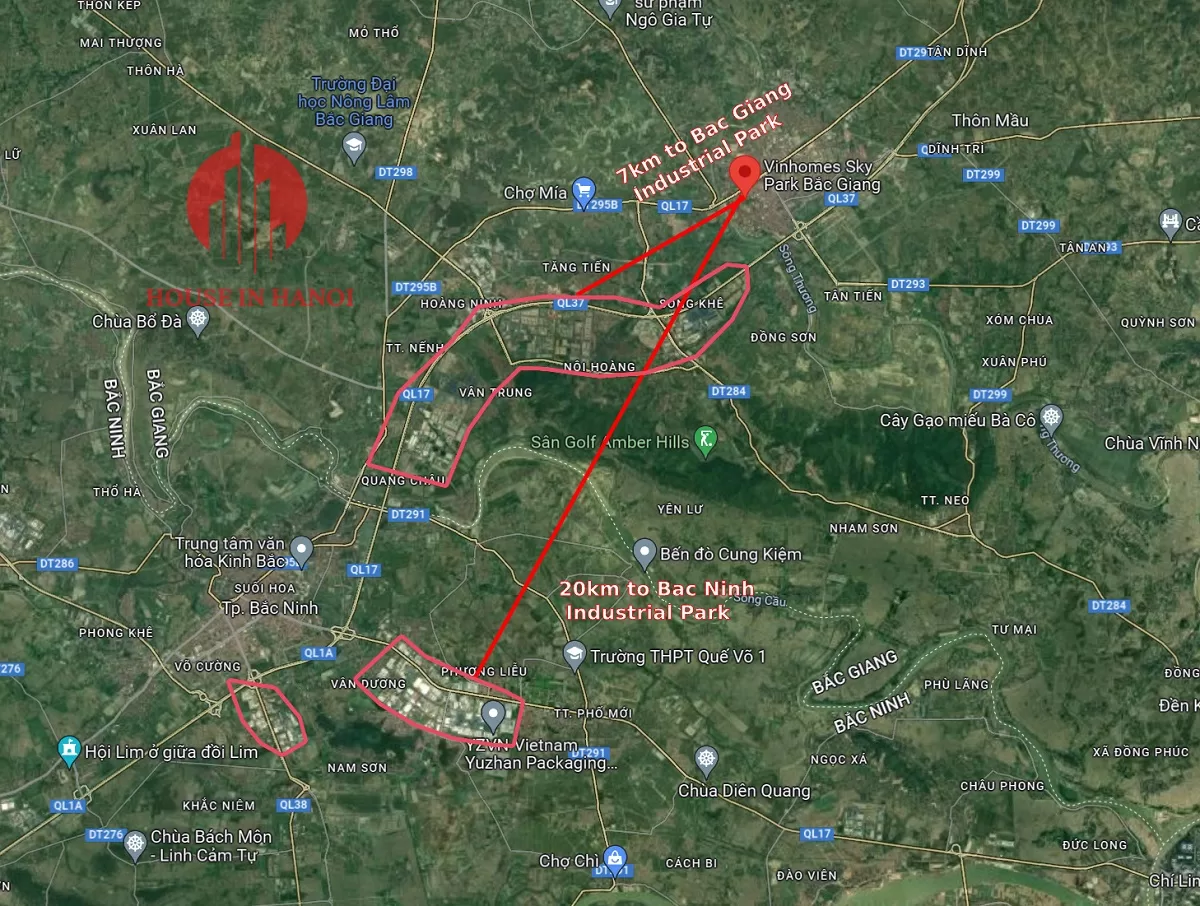 From Vinhomes Bac Giang to Nearby Industrial Parks
Apart from being a comfortable home, purchasing an apartment in Vinhomes Bac Giang is an excellent investment. Vietnam's real estate market is experiencing remarkable growth due to the country's flourishing economy, making it a prime opportunity for property investment. Moreover, commuting to Hanoi from Vinhomes Bac Giang is a breeze, as it takes only one hour by car.
Updated Progress of Vinhomes Sky Park – Vinhomes Bac Giang
Tags: Vinhomes Bac Giangの販売中アパートメント、Vinhomes Bac Giangのアパートメント、Vinhomes Sky Parkのアパートメント, Vinhomes Bac Giang의 아파트 매매, Vinhomes Bac Giang의 아파트, Vinhomes Sky Park의 아파트, Chinese: Vinhomes Bac Giang的公寓出售,Vinhomes Bac Giang的公寓,Vinhomes Sky Park的公寓, 北江待售公寓, 박장에서 판매하는 아파트
Developer : Vinhomes
No of Towers: 1
Total Units: 565
Property Type: Apartment
Rental Fee: 500$ - 1000$
Room Types: 1 - 3 bedrooms
Area range: 30m2 - 95m2
Property Id : 49187
Property Size: 20 000 m2
Completion Year: 2024
Floor: 25
Ownership: Pink Book
24/7 Security
Reception
Gym & Fitness Center
Swimming Pool
Mall
Mart
Park
Near School
Cinema
My details
Sales Department
Contact Me
Click here to schedule a viewing
Similar Listings