Hanoi has a temperate and tropical climate, with 4 distinct seasons and big differences in temperature in each season. Summer in Hanoi is hot (almost 38 °C), while winter is cold and dry. Spring and autumn are short and cool. People like Autumn and Spring because its nice weather & temperature. The coldest month is December & January. But no worries, no matter how cold it is, it doesn't snow in Vietnam.
Spring (February-April)
It is from February to April, with frequent intervals of rising and lowering of temperatures. The weather is chilly and cool at the begining. And at the end of the season, it's hotter with the temperature of 25 -28°C. The characteristic color of this season is the color of peach blossom which is a symbol of Vietnamese Lunar New Year (Tết). 
Summer (April-July)
You know it's summer when you can see a typical kind of "Sun protection clothing" wear by Vietnamese women on all the streets. It is from April to July, usually scorching with sizzling temperatures at noon. There are occasional downpours and heavy storms. Umbrella, sunglasses and sun screen are recommended. 
Autumn (August – November)
It is from August to November and the one of 2 beautiful and pleasant seasons in Hanoi. The temperature is around 22-28 °C. Normally, trees shed their leaves and flowers shed their petals. You will be overwhelmed by the poetic beauty of Hanoi.There are many songs writing about Autumn in Hanoi you might want to listen to.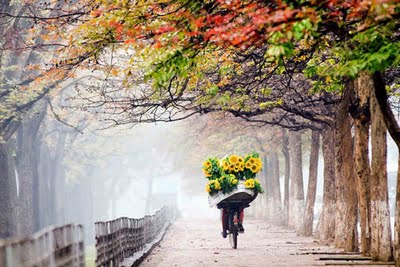 Winter (December – February)
"Winter is coming". Yes, winter comes from the middle of December when people start putting on windbreakers going to work. And it's truly cold in January, no snow though. The lowest temperature is just around 6-8°C. Get ready to prepare down jackets, thick jeans, sweaters & gloves. Actually, the young in Hanoi like hanging out in the winter. They go to the Old Quarter, have steaming hot-pot & sip drink.