Explore the Unique VinWonders in the Eastern Part of the Capital
A space for  entertainment and shopping has always been the desire of Hanoi capital city's residents. However, in the past three years, instead of having to travel far for a beach vacation, Hanoi's residents have been able to enjoy the beach every day at Vinhomes Ocean Park 1, and recently at Vinhomes Ocean Park 2 and Vinhomes Ocean Park 3.
Recently, Hanoi residents received more good news as Vingroup announced that VinWonders will be responsible for operating the entire chain of amusement and entertainment parks at Vinhomes Ocean Park 2 and Vinhomes Ocean Park 3, including the artificial wave beach complex Royal Wave Park, the four-season bay Paradise Bay, and the amusement and entertainment complex at Mega Grand World.
The unique VinWonders complex in the East of Hanoi features games that are no less exciting than any VinWonders in Nha Trang or Phu Quoc. In addition to the water parks at Paradise Bay, the water slides at Royal Wave Park, and exciting games such as Balloon Tower, Magic Bike, Skydrop, which have already been announced, Vingroup also plans to introduce additional unique games to give VinWonders Hanoi its own distinctive character.
For the first time, Hanoi is home to a high-end international entertainment, shopping, and leisure model, where East-West cultures converge. The Venice district recreates the bustling trading scenes along the docks of ancient and vibrant world-class ports, an iconic representation of the Western culture. Alongside it is The K-Town, embodying the modern vibes of the East. At Mega Grand World, Vingroup's top retail experts are collaborating with world-leading brands to truly transform this place into a shopping 'paradise' with renowned brands. Furthermore, Vingroup is also investing in international shows, kicking off with The Grand Voyage – a grand feast of sound, light, and color, featuring state-of-the-art projection technologies.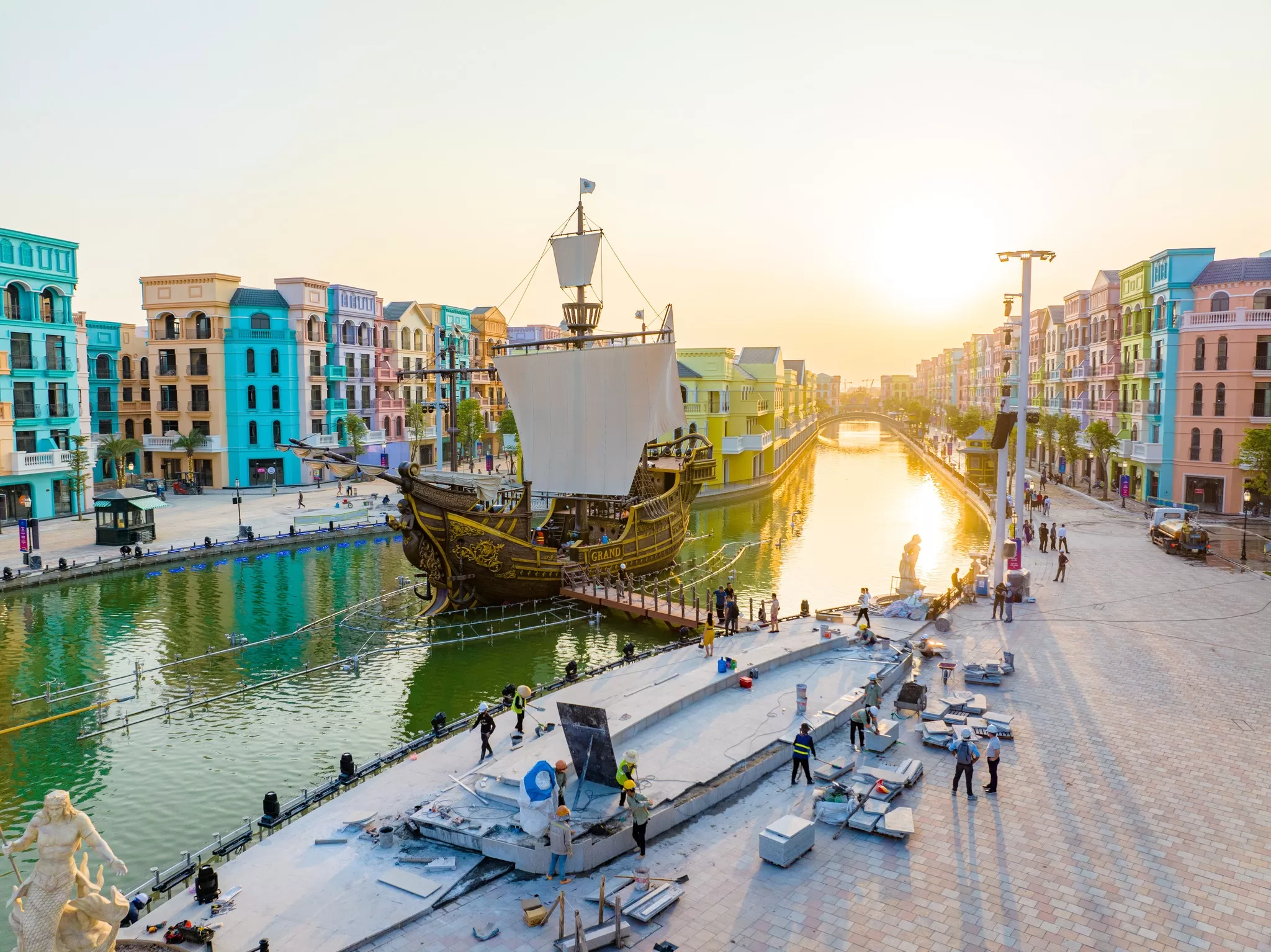 Mega Grand World is set to open in December 2023
Mega Grand World Hanoi is gradually completing its final aesthetic decorations in preparation for the grand opening event at the end of December 2023. The latest images of the project show that The Venice district is essentially finished. Highly anticipated elements of this district have taken shape: The romantic 830-meter-long Venice River has seen the appearance of unique Gondola boats; some units in the riverside shop rows are being furnished by tenants to serve the opening event; some play areas have also completed construction and equipment installation; architectural structures and iconic artworks, such as the clock tower, have been finished.
The construction of the mobile boat stage for the unique live show, The Grand Voyage, is also being expedited to be 'launched' on the exact occasion of the grand opening. This will be a maritime journey to explore the 'flourishing port' of Mega Grand World Hanoi, a rendezvous for international-level trade, where shopping, entertainment, cuisine, cultural appreciation, and architectural experiences come together in the eastern part of the capital city.
In order to provide greater convenience for travelers connecting to Ocean City, in addition to the city's public electric bus lines E01, E02, and E03, Vingroup recently announced the deployment of 115 VinBus vehicles operating 24/7 to serve visitors from Hanoi and nearby provinces from now until the end of the year.
Starting on July 5, 2023, there will be 2 routes running from My Dinh and Cau Giay to Ocean City with a frequency of every 15 minutes. From December 15, 2023, with the opening of Mega Grand World, 2 additional routes will be added to welcome visitors from the provinces of Bac Ninh and Hai Duong.
Furthermore, Vingroup will organize route E10, a subsidized route for residents to connect directly from Noi Bai Airport to the tourist city of Ocean City.
Following a series of major policies and investments, Mega Grand World promises to be a destination that attracts a large influx of visitors from over 320,000 future residents of Ocean City, more than 160,000 neighboring residents, and even more, the nearly 10 million residents of the capital city who are in need of entertainment and leisure spaces, as well as over 20 million tourists who visit Hanoi each year. In the context of several positive market signals, Mega Grand World is also gradually creating an appeal in the retail, tourism, and real estate market, offering new opportunities for investors eagerly awaiting a strong market recovery.