The prices of apartments and villas in Tây Hồ District, which were already high, are now being driven even higher following the recent approval of the planning project for the headquarters of 36 ministries, sectors, and government agencies by the Prime Minister. Adding to this, the upcoming opening of Lotte Mall Hanoi is further contributing to the surge in prices.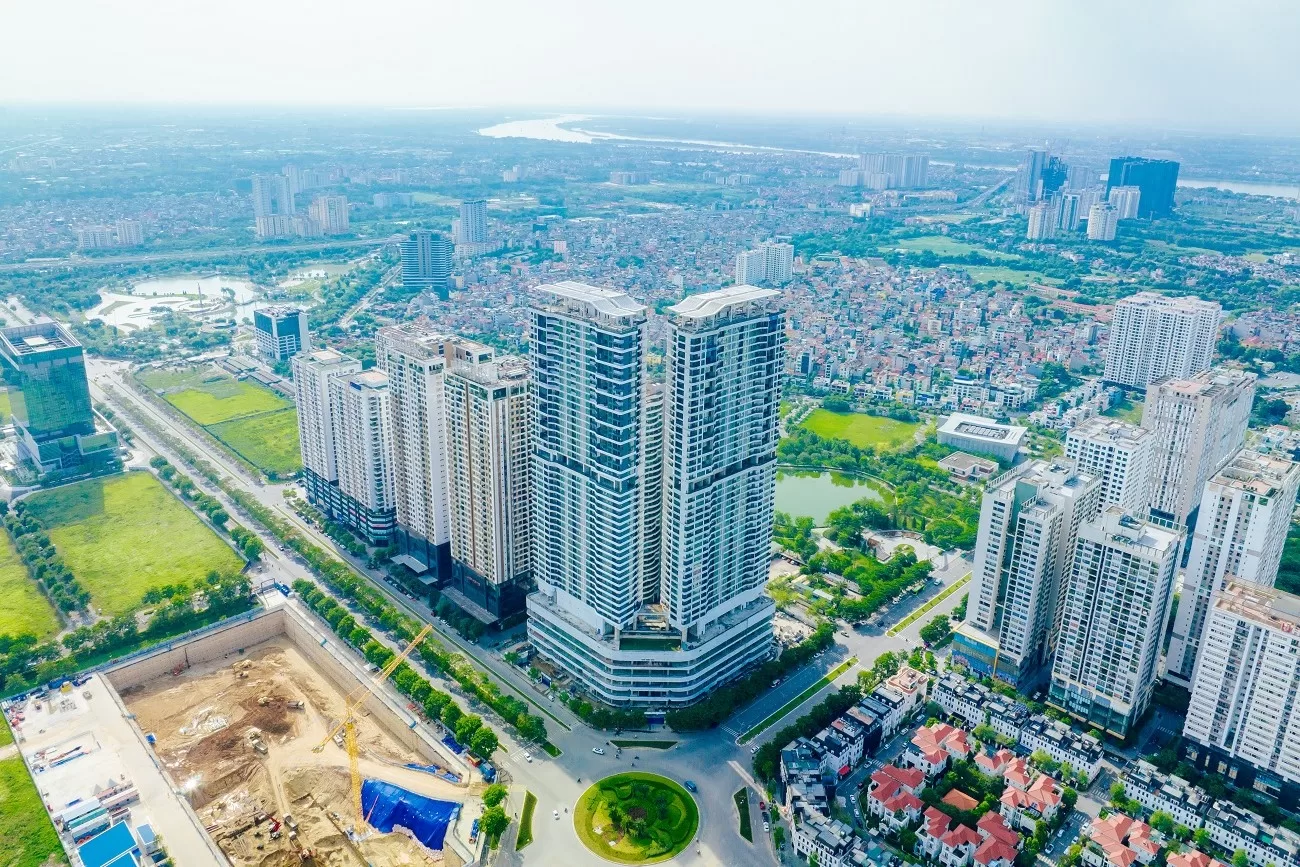 Tây Hồ Tây area is renowned for its upscale and luxurious real estate projects. It boasts a prime location, modern infrastructure, and an ideal living environment. This area attracts many international guests, high-level experts, and businesspeople. As a result, Tây Hồ Tây consistently dominates the rental real estate market with the highest annual profit rates, exceeding 6%. Some properties even achieve rental exploitation rates of over 10%, even during periods of subdued demand in the hotel and high-end apartment segments.
While traditionally catering to the affluent, recent news of the Prime Minister's approval of the planning project for the headquarters of 36 ministries, sectors, and government agencies, as well as central agencies in the Tây Hồ Tây and Mễ Trì areas, has further elevated the value of this region.
Land for new administrative center of Hanoi
According to the plan, 13 ministries and sectors will be arranged in the Tây Hồ Tây area, approximately 10 km from the city center. This area covers 35 hectares, including nearly 21 hectares in Xuân La Ward (Tây Hồ District) and 14 hectares in Xuân Tảo Ward (Bắc Từ Liêm District). The office buildings will have 12 to 25 floors, while the supporting public and commercial buildings will range from 6 to 24 floors.
In terms of timeline, from 2023 to 2025, the agencies will prepare for infrastructure construction, headquarters establishment, and supplementing the mid-term public investment plan for the 2021-2025 period. From 2026 to 2030, the relocation of essential agencies will be carried out, and their headquarters will be built and completed. From 2031 to 2035, the remaining ministries, sectors, and public facilities will have their headquarters constructed.
Alongside the information about the 36 ministries and sectors moving to Tây Hồ Tây, Samsung's largest Research and Development (Samsung R&D) Center in Southeast Asia will also be built and completed within the Tây Hồ Tây urban area. The center will consist of a 16-story tower and three basements, with a cost exceeding 220 million USD. The building will be located adjacent to Hoàng Minh Thảo Street, featuring 10 lanes. It is part of the Tây Thăng Long axis, connecting from Võ Chí Công (Ring Road 2) to Sơn Tây.
Furthermore, Lotte Mall Hanoi, with a record investment of 600 million USD, is scheduled to open by the end of 2023, creating additional momentum in the real estate market of the Tây Hồ Tây area.
According to leading real estate agencies in Hanoi, apartment prices in Tây Hồ District currently hover around or slightly exceed 100 million Vietnamese dong per square meter. Notably, in addition to apartments, the villa and shophouse segments in the area also command relatively high selling prices, ranging from 300 to 600 million Vietnamese dong per square meter. These properties are sought after by individuals with stable financial resources due to their exceptional location in the heart of Hanoi's new administrative center, offering significant potential for high returns on investment.
Real-world surveys indicate that both the Tây Hồ Tây area and the Võ Trí Công axis have witnessed apartment prices surpassing the hundred-million Vietnamese dong mark per square meter. For instance, the Heritage West Lake project situated on Lạc Long Quân Street (Tây Hồ District), developed by CapitaLand – Hiền Đức Joint Stock Company, has recorded price ranges from 100 to 140 million Vietnamese dong per square meter. However, it is worth noting that the project has already sold more than 90% of its available units.
Starlake Urban Town in Tay Ho Tay area
Adjacent to this apartment project are the H6, H7, H10, H11 villa and shophouse areas, with prices ranging from 200 to 390 million Vietnamese dong per square meter. Additionally, the K3, K5, K7 villas and shophouses along Nguyen Van Huyen Street are being offered at prices between 300 and 600 million Vietnamese dong per square meter. Notably, the demand for properties in this location, such as the Star Lake shophouse project, has exceeded the available supply. Since its launch, all 100 units were quickly sold, with minimal market activity and an extremely rare occurrence of properties being resold. Furthermore, the K3 area is highly coveted due to its proximity to government ministries, central office buildings, and a 6-star hotel operated by the SK Group from South Korea.
In addition to new supply, existing apartments in the Tây Hồ Tây area have also reached prices of up to 10 billion Vietnamese dong for 3-bedroom units. Speaking of the sale of luxury apartments in the new Tây Hồ Tây urban area, Ms. Huyền from Cầu Giấy, Hanoi, mentioned her family's urgent need to sell a 3-bedroom apartment with an area of nearly 100 square meters for over 10 billion Vietnamese dong. Similarly, in the vicinity, another apartment spanning 113 square meters in the new Tây Hồ Tây urban area is being offered for sale at nearly 12 billion Vietnamese dong.
It can be said that the Tây Hồ Tây area in Hanoi is considered the "golden" development center of the real estate market in the city. It is attracting affluent individuals and particularly foreigners who come to live and work here. With the rapid growth in infrastructure, many experts predict that real estate prices in Tây Hồ Tây will continue to experience robust growth in the near future.