ID: 22430
add to favorites
OVERVIEW
Address: Ciputra Urban Area, Tay Ho district, Hanoi
Developer:  Urban Infrastructure Development and Investment Corporation
The total area: 26,978sqm
Apartment area: from 84sqm to 168sqm
Apartment type: 2,3 & 4 bedrooms, duplexes and penthouses.
Scale: 3 Towers, from 17 to 23 floors , 2 basements, 1 outdoor parking area, shophouses, 3 commercial floors.
Quantity of Apartments: 408
Completion time: Quarter II/ 2019
UDIC Westlake, "peaceful resort" in the heart of the capital – where the values of life sublimate, in harmony with endless nature, honor the level of trendy owners. The urban area is a complex of apartment buildings, villas, townhouses, shophouses in Ciputra Hanoi.
UDIC Westlake Project includes 3 towers with the height of 17, 20 and 23 floors with open and airy architecture creating a harmonious whole. The project has been skillfully arranged by a team of architects to maximize the viewing angles of the green space and the water. It can be said that UDIC Westlake is a masterpiece created as a valuable gift for noble owners.
Way to Airport, Riverview, Nhat Tan Bridge View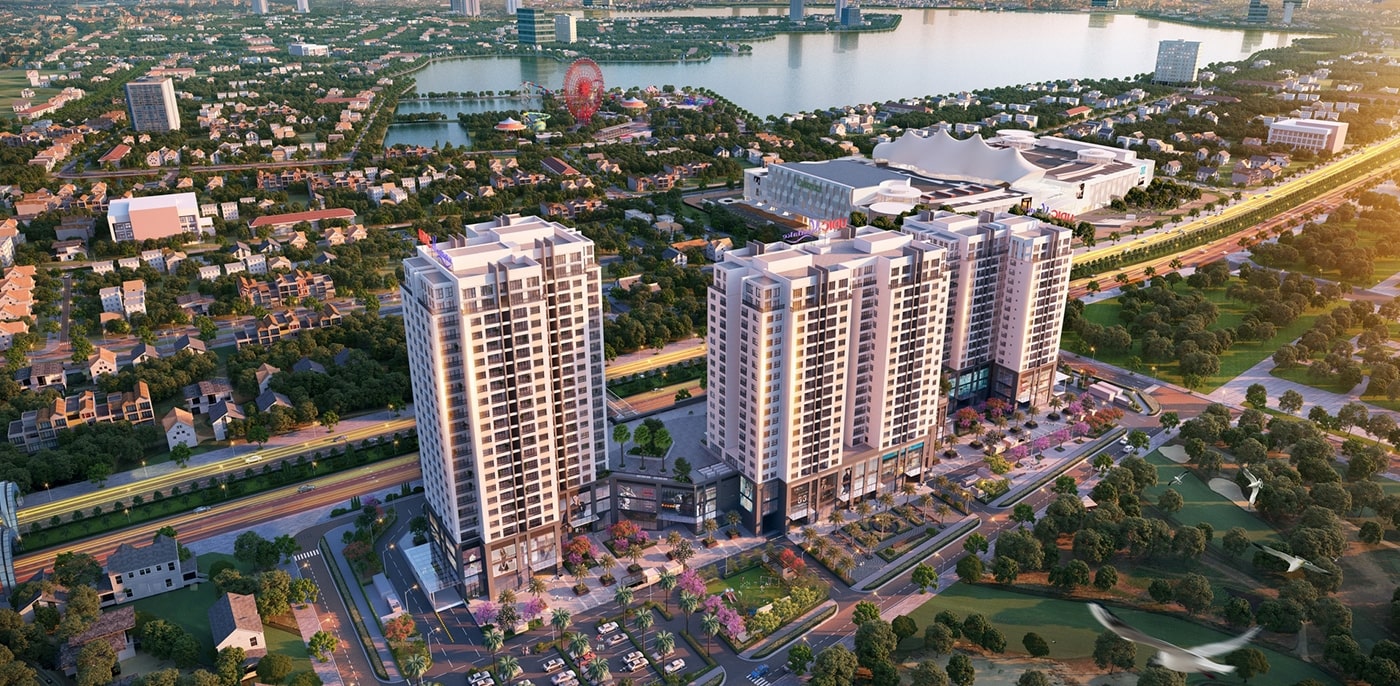 LOCATION
Udic Westlake Hanoi is located right on Vo Chi Cong street, Tay Ho district. This is one of the most important and beautiful road in Hanoi leading to Nhat Tan bridge, connecting Hanoi city with Noi Bai airport. The road consists of 4 wide lanes. This is a very convenient transportation location that makes it easy and convenient for residents living in Udic Westlake apartments for sale to go to the city center and surrounding areas.
450m to Lotte Mega Mall
750m to Water Park
1km to West Lake
1.3km to United Nation International School
3.3km Ciputra Club
1.2km to Flower Valley
2.6km Diplomatic Corps
4.5km to Thu Cuc general hospital
10km to Old Quarter (downtown) 
15km to Noi Bai Airport
UDIC Westlake apartments are equipped with synchronous utility system, international quality. All are carefully taken care of by UDIC developer to provide residents with the most luxurious living experiences, creating civilized and modern resident community.
1. Internal walkway
2. Outdoor gym
3. Fountains
4. Children's play area
5. Ground garden
6. Internal walking path
7. Outdoor parking lot
8. Gate of the urban area
10. Lotte Mall
11. Ciputra Club
12. Trinh Cong So walking street
13. Ho Tay Water Park
14. Walking bridge on Vo Chi Cong street
15. Ciputra jogging and cycling road
16. Ciputra golf driving range
17. High-class restaurant
9. The system of leading international schools in Hanoi: Unis, Hanoi Academy, SIS
18. Restaurant, cafe
19. 4 seasons indoor swimming pool (4th floor)
20. 3 floors of commercial center
21. Modern apartment lobby
22. Shophouse block
23. Convenient parking basements
24. Smoke alarm system, automatic fire alarm
25. Elevator 34 units / elevator – low density
PAYMENT SCHEDULE
Down payment: 100 Million Vietnamese DOng
1st Installment: Pay 20% of the apartment selling price (VAT included), deposit amount included
2nd Installment: Pay 40% of the apartment selling price (VAT included) within 30 days of signing sale and purchase contract
3rd Installment: Pay 35% of the apartment selling price (VAT included) + 100% of maintenance fees
4th Installment: Pay 5% of the apartment selling price (VAT included) According to the notice of Receiving Certificate of land use rights, ownership of housing and other assets attached to the land from the Developer.
Developer : UDIC
No of Towers: 3
Total Units: 408
Property Type: Apartment
Rental Fee: 700$ - 1500$
Room Types: 2 - 4 bedrooms
Area range: 84m2 - 168m2
Property Id : 22430
Property Size: 26 978 m2
Completion Year: 2019
Floor: 23
Ownership: Pink Book
24/7 Security
Reception
Gym & Fitness Center
Swimming Pool
Mall
Mart
Golf Court
Park
Near School
My details
Sales Department
Contact Me
Click here to schedule a viewing
Similar Listings
Heritage Westlake is a luxury real estate project developed by Capitaland Group. The project is
[more]
Heritage Westlake is a luxury real estate project developed by Capitaland Group. The project is located at a diamon
[more]

92m2 - 267m2 1- 4 bedrooms
OVERVIEW PentStudio Hanoi is a luxury turn-key apartment project accomplished in 2019 in Tay Ho
[more]
OVERVIEW PentStudio Hanoi is a luxury turn-key apartment project accomplished in 2019 in Tay Ho district. There is
[more]

43m2 - 106m2 1 - 3 bedrooms
Tay Ho Residence was built on an area of 2.4ha in the future planned urban administrative cente
[more]
Tay Ho Residence was built on an area of 2.4ha in the future planned urban administrative center of the capital, in
[more]

58m2 - 125m2 2 - 3 bedrooms
Sunshine Crystal River is aerial villa  apartment project called Sky Villas , luxury apartments
[more]
Sunshine Crystal River is aerial villa  apartment project called Sky Villas , luxury apartments of Sky Villas serie
[more]

126m2 - 329m2 3 - 5 bedrooms